If going in the direction of Krasnaya Polyana, Adler district, there is an interesting route: Ahshtyrskaya cave - the Trinity-Georgievsky Female Monastery -Trout farm – Skypark. Individual tour goes through the picturesque places of Adler. We guarantee you that you will have incredible photos.
At the beginning of your trip you will see Russia's largest trout farm. Here you will have an exciting excursion, where you will learn how to breed trout. Only here you can see the unique blue and white trout.
On the territory of the surroundings of Sochi there are 47 rivers, one of which you will see in all its beauty. It is the Mzymta River. It originates high in the mountains in the highland Kardyvach Lake. Since old times to go through such mountain rivers people constructed suspension bridges. Now there are few such buildings in the world, but you will be lucky enough to see one of these bridges and take unique photos.
Then we will visit Ahshtyrskaya cave, which is hidden in a remote place high on the rock. It is here where an ancient man Neanderthal lived 70 000 years ago. The path to the cave passes through a prehistoric relic forest. During the walk you will see unique trees - boxwoods. Examining the cave and taking photos of the gorge, where a stunning view appears, and we go further.
The world's longest suspension bridge that connects two steep slopes of the Akhshtyrsky gorge at a height of 207 m is our next point of the excursion. There are stunning panoramas of the gorge and Mzymta River from this bridge. The length of the bridge is 439 meters and it is listed in the Guinness Book of records.
If you like extreme sports, a jump on an elastic rope, what is bungee jumping, will bring you a lot of pleasure. You can also try Megatroll - suspended swing.
Having obtained some adrenaline, we continue moving further along the route and head in the direction of the Trinity-Georgievsky Female Monastery. It is a functioning monastery where seven nuns inhabit. They follow farming and serve. On its well-groomed territory there are three temples: the Vladimir temple, the temple of the Martyr Varos and the Church of the Icon of the Mother of God. After spending time in the quiet temple complex and drinking the Holy water, we go way back.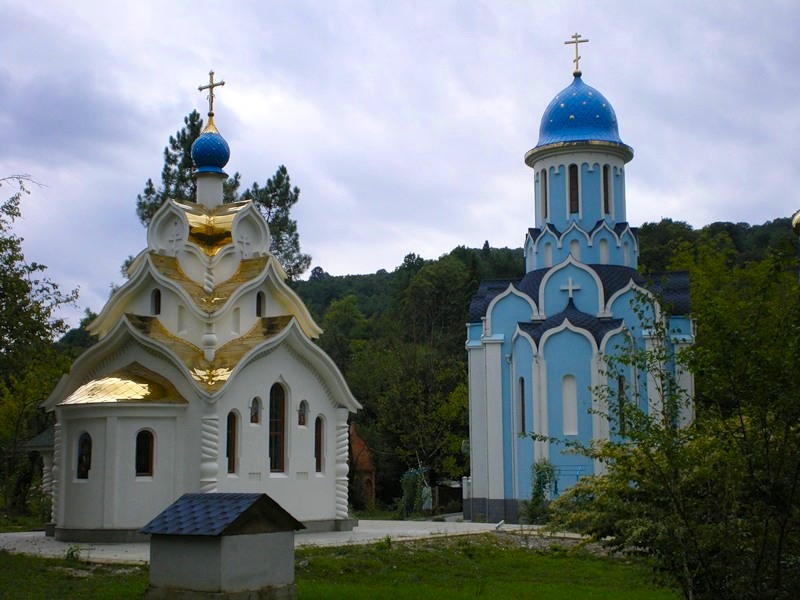 Additional paid tickets:
Ahshtyrskaya cave - 200 RUB/person.,
Trout farm - 250 RUB/person,
Skypark - 1250 RUB/person.